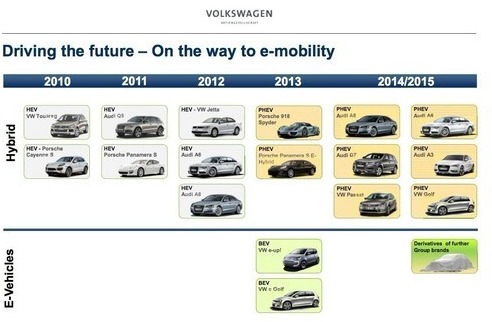 According to information presented by Hans Dieter Pötsch, a member of the Volkswagen Board of Directors, Volkswagen Group will launch more than 10 electric vehicles worldwide from 2013 to 2015, most of which will be plug-in hybrid vehicles (PHEVs).
As can be seen from the table, in 2013 Volkswagen will have 4 electric vehicles available, including Porsche 918 Spyder PHEV and Porsche Panamera SE-Hybrid PHEV. Two plug-in hybrids and e-Up! BEV and e-Golf BEV Pure electric car.
Between 2014 and 2015, Volkswagen will release more than six plug-in hybrids, among which the Volkswagen brand will be the Passat PHEV and Golf PHEV, the Audi brand will be the Audi A3 PHEV, the Audi A6 PHEV, the Audi A8 PHEV and the Audi Q7. PHEV. In addition, Volkswagen will likely launch more derivative new energy vehicles. Specific information has not yet been disclosed.
Of the 10 electric vehicles that were exposed this time, plug-in hybrid vehicles accounted for 8 models. It seems that the Volkswagen Group has already adopted plug-in hybrid technology as the main route for the development of new energy in the future. Volkswagen CEO Wen Deen also said: "In the next few years, we will electrify all levels of products through plug-in hybrids and help the electric propulsion system achieve breakthroughs."
Lovol Diesel Generator,Lovol Power Generator,Lovol Silent Diesel Generator
Raise Power Machinery Co., Ltd , http://www.shdieselgenerators.com