With the maturity of LED lighting applications and the demand for medium-power LEDs, LED packaging factories have been actively introducing EMC (thermosetting epoxy resin) brackets for medium and high power in recent years, but some industry players have pointed out that EMC stent process and PPA (thermoplastic) in the past Plastics) vary widely. From the perspective of equipment construction, the industry is willing to pay higher PCT (poly(ethylene terephthalate)). It is reported that LEDs using PCT brackets have been over-drived to 1.5W. And is moving toward 2W.
The EMC bracket is undoubtedly a major focus of the packaging industry in 2013. The EMC bracket has been rapidly developed from 1-2W LED to 2-3W LED in the past, coupled with the accelerated price decline, synchronizing threats to PSA brackets for low power and high-power ceramics. Substrate market. However, the stent industry believes that the EMC stent process is similar to that of semiconductors, which is more advantageous for semiconductor-based manufacturers. In the past, the rack and packaging factories specializing in the LED market in the past need to increase the procurement and processing of equipment. The change is facing greater pressure on capital expenditures.
In the past, manufacturers specializing in PPA stents have turned into PCT brackets and transferred to the PCT bracket market. It is understood that the PCT brackets of the bracket manufacturers are now available on 1.5W LEDs and are moving toward over-drive to 2W, with PCT brackets cutting in. In the mid-power LED market, coupled with the continued decline in PCT prices, many LED packaging plants are also waiting to see the development of PCT brackets and EMC brackets.
According to the current LED packaging factory invested in EMC, Taiwan LED packaging factory Yiguang, Dongbei, Lu LED packaging factory Ruifeng, and Sanan Group's packaging plant Tiandian have also opened EMC packaging component capacity, in addition, Han The LED manufacturers Samsung, Seoul Semiconductor, LGInnotek and other plants have also introduced EMC packaging technology. It is reported that Taiwanese companies are evaluating whether EMC production capacity continues to expand, while Korean LED manufacturers are relatively active in EMC.
Material
Carbon Steel like A234 WPB, 20G, A105, Q235A/B and alloy steel like ASTM A234 WP5, WP11, WP12
Executive Standard
ASME B 16.9, DIN, JIS, BS, etc
Size
1/2"-24"
Wall Thickness
SCH10~SCH160, STD, XS, XXS
Type
Seamless
Welding Method
Butt Welding
Surface Treatment
grit blasting, black or transparent painting or according to the requirement of client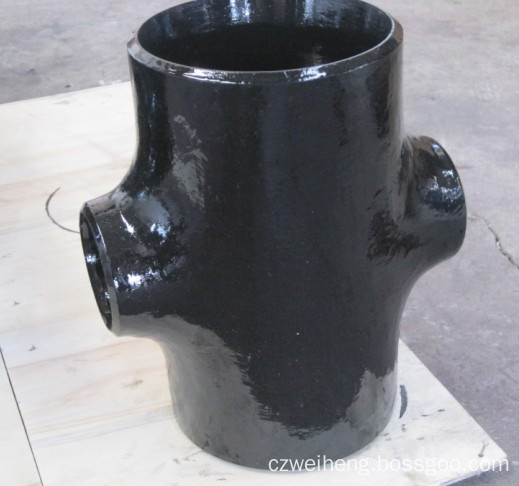 Stainless Steel Cross, Carbon Steel Cross, Alloy Steel Cross, Reducer Steel Cross, Equal Steel Cross
Cangzhou Weiheng Pipe Industry Co.,Ltd , http://www.czweiheng.com