In the rapid development process, the express delivery industry has new demand for trunk transportation vehicles. As a key part of ensuring transportation services, the safety, reliability and high efficiency of transportation vehicles are essential.
As the heart of the vehicle, the engine is the key to guarantee the timeliness and high attendance of the express delivery vehicle. With its superior power and reliable quality, Cummins engine perfectly meets the new needs of the express delivery industry.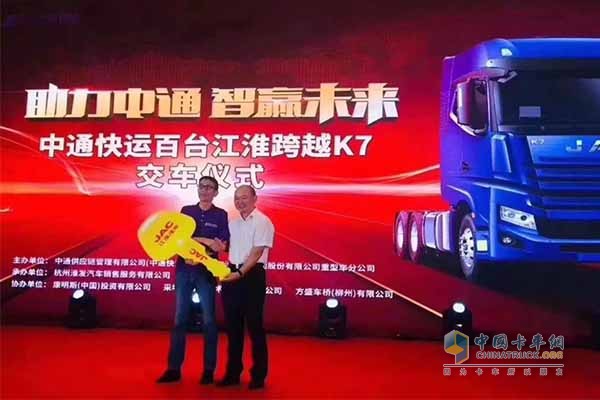 50 Jianghuai Gefa K7 equipped with Cummins X12 engine successfully delivered to Zhongtong Express Co., Ltd.
In September 2018, in the beautiful Hangzhou, 50 Jianghuai Gefa K7 equipped with Cummins X12 engine was successfully delivered to China's leading logistics service provider, Zhongtong Express. Cummins has been cooperating with the Chinese express delivery industry for a long time. In recent years, there have been a number of express delivery companies such as SF Express, Debon Logistics, BES Huitong, and Yunda Express to choose Cummins Power. Cummins engine has won the trust of many express delivery companies with its superior power, high reliability and low failure rate.
The general manager of Jianghuai Automobile Xiang Xingchu said: "The K7-matched Cummins X12 power is specially designed for express and special line traffic, and its fuel economy and high efficiency have more outstanding performance."
"The core competition point of express logistics is efficient. Only high-efficiency, high-security, high-reliability transportation means can ensure that express delivery will be on time." Tang Jianmin, president of Zhongtong Express, said: "German K7 equipped with Cummins X12 engine is in Low fuel consumption, high attendance, low operating costs and other aspects have given us great surprises."
Cummins and Jianghuai, and Zhongtong Express have a long and successful history of cooperation. Cummins light and medium-sized engines are widely used in various types of light trucks and buses in Jianghuai. At the same time, quite a few of the existing transportation vehicles of Zhongtong Express have also selected Cummins' different engine configurations. The Jianghuai K7 that was delivered this time is mainly engaged in express transportation and special line logistics transportation. It is equipped with Cummins X12 engine, all of which are 510 horsepower. The large displacement and large torque significantly enhance the power of K7.
The X12 engine has the advantages of high reliability, strong power and good fuel economy. It also meets the requirements of high-speed, reliable, economical, fuel-efficient, comfortable and intelligent express delivery. This batch of vehicles is equipped with Cummins C-LINK remote intelligent service system, which can monitor and warn remote faults in real time. This makes the X12's intelligent advantages more prominent, which will bring users a better experience and a lower life cycle. Operating costs.
"As we all know, Zhongtong Express is a leading logistics service provider in China. Jianghuai Automobile is an excellent commercial vehicle manufacturer in the country. Cummins is proud to cooperate with these two companies to create an efficient logistics transportation solution." Cummins China Engine Business Huang Haitao, general manager of marketing, said in an interview with the media: "The X12 engine has become a major driving force for high-end logistics tractors in China with its outstanding advantages such as high reliability, strong power and good fuel economy."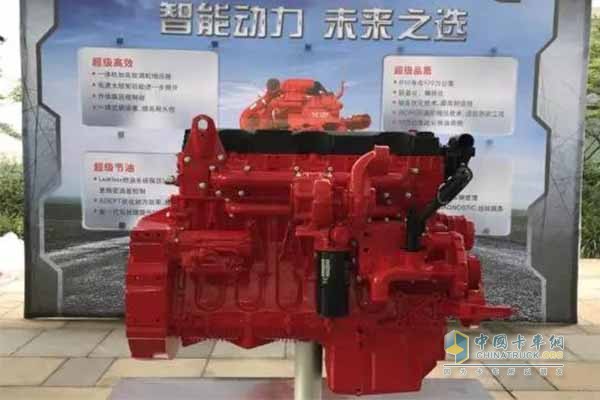 Cummins X12 engine has the advantages of high reliability, strong power and good fuel economy
The X12 engine has Cummins North American heavy-duty truck gene. It officially landed in China in April 2017, and its market share in the tractor market continues to rise. At present, the total production and sales volume has exceeded 80,000 units. The engine is based on Cummins' X-Series platform and uses a variety of advanced technologies. X12 is the first to adopt ADEPT smart assisted driving technology. Based on mobile internet and big data analysis, combined with AMT system, it can dynamically manage torque output and neutral taxiing according to the forward road conditions, and can achieve 4% fuel economy improvement. In terms of power, the X12 has a power of 10-15 liters; the wide horsepower range of 480-510 provides a powerful low-speed torque output with a torque output of 2,300 Nm at 1000 rpm; The brakes can further increase the braking force to 400 hp and the brakes are safer.
Cummins X12 engine meets the world's most stringent emission standards, while providing high fuel efficiency while maintaining power, combined with the durability and reliability of the Cummins engine itself, ensuring high vehicle attendance and vehicle maintenance . It deserves to be the classic power of the express logistics industry.
Reading volume: Source: Cummins China Author: Zebian
YL450 Double Cylinder High Pressure Pump
High Pressure Misting Pump,Ultra High Pressure Water Pump,High Pressure Diaphragm Pump,Bosch High Water Pressure Pump
FOSHAN YUANLI PRECISION MACHINERY CO.,LTD , https://www.ylwaterjet.com