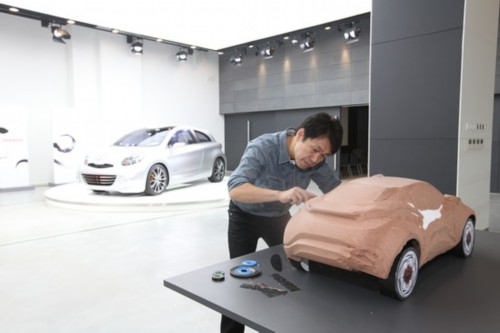 Nissan's new Nissan Motor Design Center in Beijing officially opened its Nissan Motor Co. China Design Center in Beijing on Wednesday. This is the third design center Nissan has set up outside of Japan. Although Shanghai has become the first choice for automakers to design cars for the global and thriving Chinese market, Nissan has not built a design center there.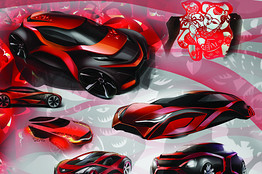 Nissan
A design product exhibited at the Nissan Design Center. Shiro Nakamura, Japan's Nissan Motor's chief creative chief, said in an interview with The Wall Street Journal that he hopes the design center will be able to launch designs that are widely respected by the world.
Shiro Nakamura made a special trip to Beijing to open the design center. The design center is located in a low warehouse-style building near the 798 Art District. According to the original plan, the design center should hold an opening ceremony in March this year, but due to a series of events after the earthquake and tsunami in Japan, Nissan Motors delayed the opening date of the design center.
Although China's auto market is the largest in the world, Shiro Nakamura still hopes that Beijing's design center will produce ideas that rival those of Japan, the San Diego, and London's design centers. Nissan Motor's design center in Japan is located in Yokohama.
Shiro Nakamura said that Nissan's China Design Center has recently surpassed several other design centers and is currently designing a very important part of the automotive interior design. The design will be launched in two to three years time. This design center can not only create ideas for China, he said.
The initial investment of China Design Center is about 150 million yen (about 2 million US dollars). Nissan's executives said that the new design center has about 20 employees and can carry out internal and external designs on one vehicle at a time. Of the approximately 20 employees, one-third are designers and others are support staff. Most of these people are Chinese or foreign Chinese.
Prior to this, Nissan once operated a small design office in Shanghai and had two designers. Its main responsibility was to monitor China's design trends. Last year it closed the office to free up resources to establish a fully functional design center in Beijing.
Shiro Nakamura said that Nissan had considered establishing this design center in other cities outside Beijing, including Shanghai, Dalian, Guangzhou, and Shenzhen.
Nissan Motor's Beijing Design Studio. Shiro Nakamura said that one of the reasons for his selection of Beijing was that there was only a small number of design institutes in Beijing, and Nissan could operate its design center in a "quietly quiet environment where other design agencies would not frequently excavate corners". Most international manufacturers have set up design agencies in Shanghai.
In addition to Nissan, Daimler AG's Mercedes-Benz also opened a design center in Beijing. Volkswagen AG's Audi is located in Beijing. A small design office.
Shiro Nakamura said that at first he did not take Beijing seriously, but after spending more time in the city, he changed his mind. He said that Beijing not only has rich historical and cultural resources, but is also becoming more and more modern after the 2008 Olympic Games. There are some relatively fashionable and charming communities, which makes it a place to inspire designers. He said that Shanghai is indeed a vibrant Asian city, so that you do not know if you are in Tokyo, Seoul or Shanghai; and Beijing has a unique and unique Chinese city flavor.
Another key factor is Beijing has two top design colleges, one at Tsinghua University and one at the Central Academy of Fine Arts. This gives Nissan the opportunity to recruit talent. On Wednesday at the opening ceremony held in Beijing for its design center, Nissan also invited two heavyweight professors in school design.
Aluminum Manifold Tube is a kind of aluminum welding tube.It used high frequency welding technology.Normally Aluminum Manifold Tube is used in aluminum condenser.We have lots of ready tooling for Aluminum Manifold Tube which can help clients save its research and development cost.The frequent used alloy in Aluminum Manifold Tube is 3003.With 14 years export experience.Trumony ALuminum Limited is your best choice of Aluminum Manifold Tube supplier in China.
Aluminum Pipe Price,Aluminium Tube Welding,Aluminum Manifold Tube,HF welding Aluminum tube
Trumony Aluminum Limited , https://www.szaluminumplate.com