Computerized:
Computerized
Certification:
CE, ISO9001:2008
Name:
Customized Plastic Injection Molding Machine
Injection Pressure:
184-170MPa
Injection Rate:
160-176g/S
Screw L/D Ratio:
22.8-21.9L/D
Transport Package:
Wooden Package or by Order
Customized Plastic Injection Molding Machine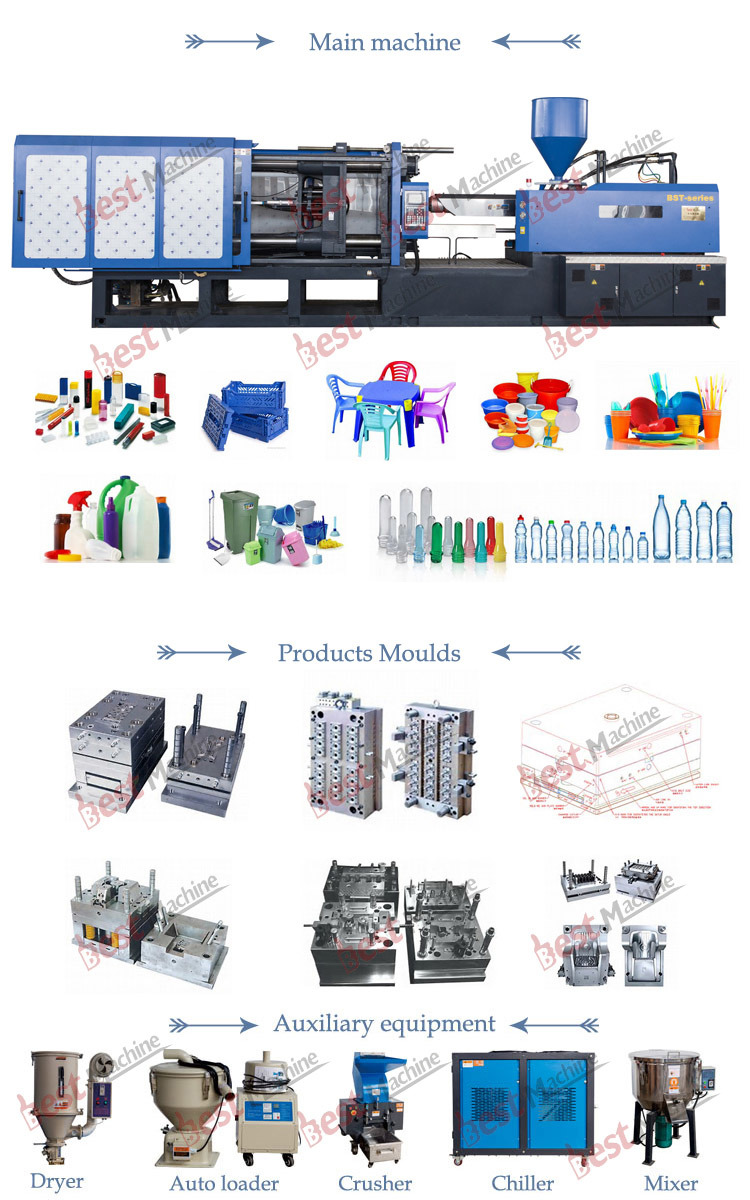 1.Big tie bar space and shot weight capacity 
2.Most famous component parts 
3.Perfect after-service
FEATURES
- A variety of text can be switched.
- Manual, semi-automatic and fully automatic mode.
- Automatic movement monitoring with alarm and fault diagnosis.
- Function of slope setting can set the start and stop of movements, so as ensure the smooth movement
 
CONTROL SYSTEM
All-digital control system uses dedicated controller, multiple CPU processing division,
a multi-functional automatic fault detection, alarm system, certificates 99 mold of
processing procedures, with remote control interface. System is of high stability and
responsiveness. System uses color LCD, man made interface for easy operation and
with a number of peripheral interfaces.
 
HYDRAULIC SYSTEM
Advanced hydraulic system design, through proportional control of pressure, flow achieves rapid multi-level pressure, speed switching, the system configuration is reasonable, stable and reliable. The noise is less than 75 dB. The medium and large machine adopts a two-way cartridge inserted valve system to improve the system of flow and speed of response, and makes the whole machine reach the best performance.
SERVO SYSTEM
After receiving the pressure and flow instruction from computer controller, the servo driver will compare it with the actual pressure and flow feedback, and rectify the difference by controlling the rotating speed of the servo motor. In this way, the control of injection molding is not only acurate but also fast, and the repeatabillity of the products high as well.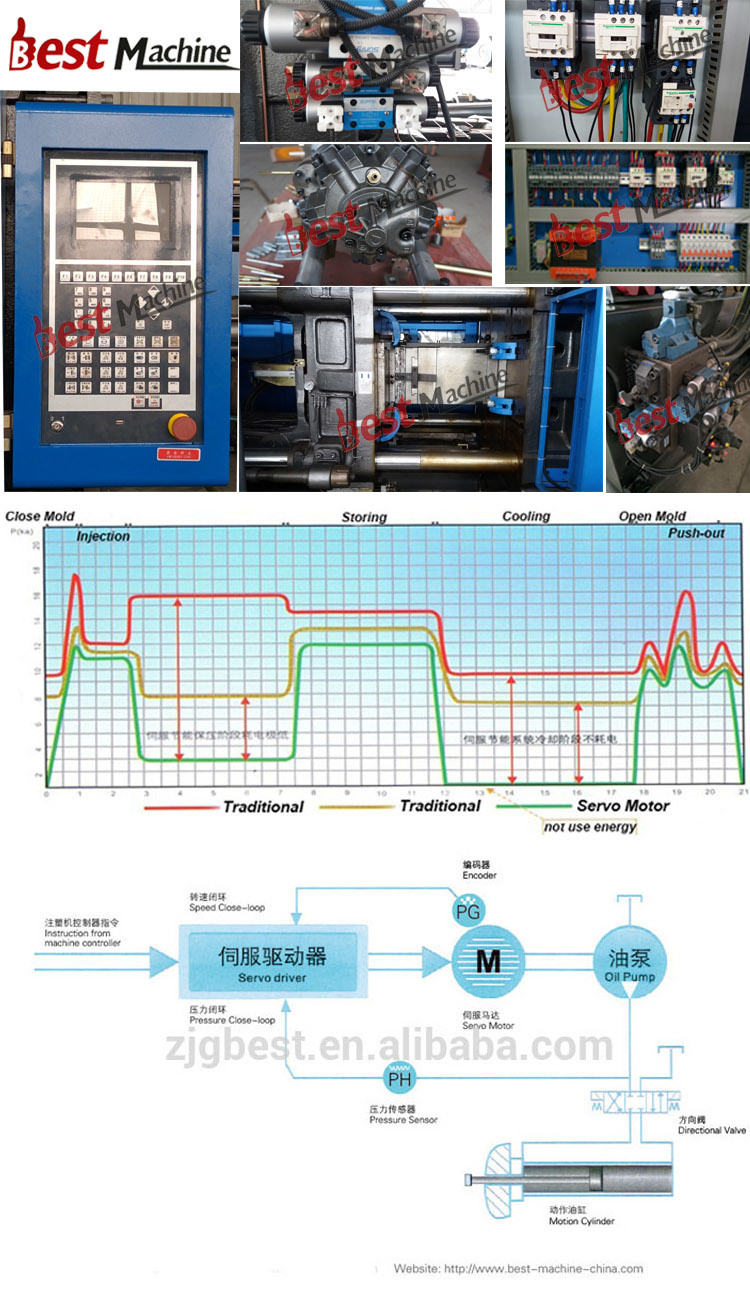 Technical parameters
MODELÂ 
BST-2300A
INJECTIONÂ UNITÂ 

 
A
B
Screw diameter 
mm
50
52
Shot size(theoretical) 
Cm³
608
658
Shot weight 
g
546
592
Injection pressure 
Mpa
184
170
Injection rate 
g/s
160
176
Screw L/D ratio 
L/D
22.8
21.9
Screw speed 
r.p.m
0-180
Nozzle Diameter 
Srmm
20
CLAMPINGÂ 

 

 
Clamp tonnage 
KN
2300
Toggle stroke 
mm
480
Mould Thickness 
mm
200-510
Space between tie-bars 
mm
510X510
Ejector stroke 
mm
155
Ejector tonnage 
KN
70
Ejector number 
Piece
9
Hole Diameter 
mm
160
OTHERSÂ 

 

 
Heat power 
KW
11.6
Max. pump pressure 
MPa
16
Pump motor power 
KW
18.5
Valve Size 
mm
16
Machine dimension 
m
5.7X1.8X2.0
Machine weight 
t
6.5
Oil tank capacity 
L
300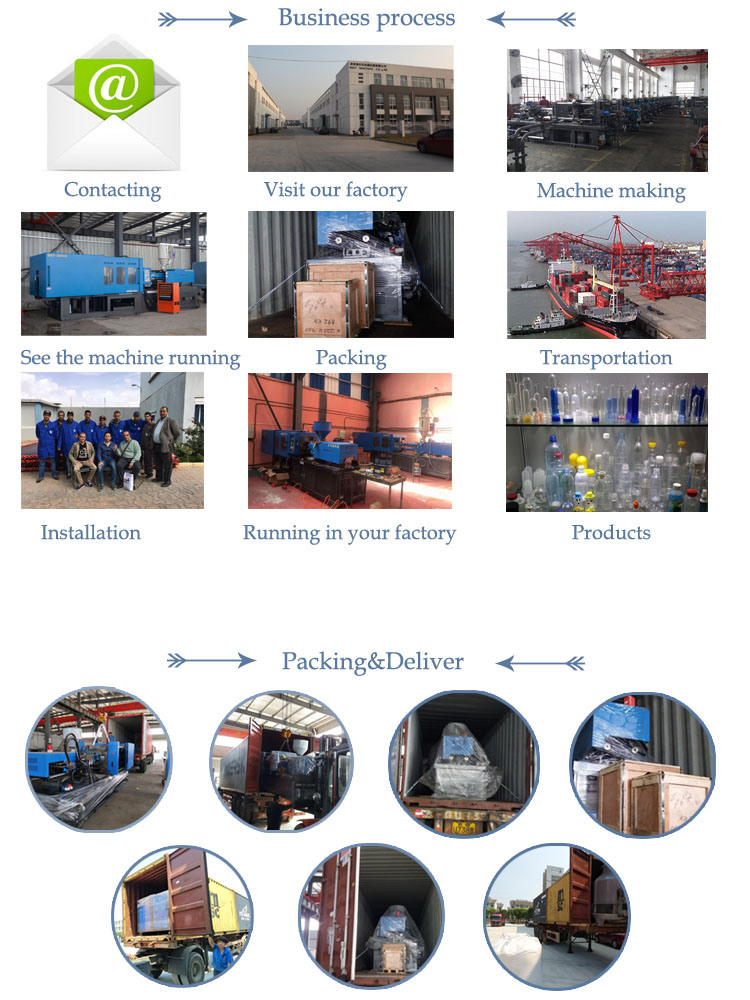 Our Service
Supply mode: the supplier factory delivery, simple packaging, the supplier agent consignments, the expense is payed by the buyer .
 
Terms of payment: the buyer pay 30% of the total payment as the signing of the deposit, the contract comes into effect, pay the balance before shipment .
 
Quality assurance: the equipment according to the enterprise standard implementation and mechanical guarantee period is one year, the main electrical appliances for half a year .
 
Method of acceptance: equipment processing after the completion of delivery, the buyer sent to the factory acceptance, for commissioning, the buyer to provide raw materials for plastic material .
 
Technical and after-sales service:
The supplier the following technical and after-sales service commitment
A) provide on-site installation guide;
B) responsible for the commissioning of equipment;
C) responsible for the buyer's personnel mount guard before the operation and maintenance training;
D) one year free warranty (due to the buyer's improper operation caused by damage charge costs), and ensure the supply of spare parts for a long time, only receive the cost.
E) provide technical advisory services for a long time
 
Delivery date: the contract is signed and completed within 45 working days after receiving the deposit unit processing and manufacturing, with the conditions of the factory acceptance
Triplex Mud Pumps,Mud Pump,Sewage Pump in Pumps
Sand Gravel Pump,Dredging Pumps Co., Ltd. , http://www.nspumpparts.com